News — horses
Posted by Michael Peterson on
My horse Zoe has suffered from stomach issues since she was 4 days old. Nothing has helped her like Gastro Elm. We now have numerous horses at the barn the use it as well. Thank you so much!  I was getting really frustrated over her gut issues. Gastro Elm helped immensely!   Sheila Buschette & Zoeya CC  
Posted by Michael Peterson on
Blue spent well over a year in misery. Two vets plus a holistic vet saw him. Our last plan was to take him to MSU for a scope. Every morning, Blue would be laying down in the pasture. It got to the point that he would nicker to me hoping for a dose of Banamine. I ran across the ad for GastroElm during my endless internet searches for information on chronic colic. After reading reviews, I ordered a bag. I admit I wasn't expecting much, but I was at the point of considering euthanasia. Blue's misery was causing me as...
Posted by Michael Peterson on
My arab has frequently been a picky eater. With GastroElm Plus she had become an incredible eater and easier to ride too. This picture is after completing a fifty mile ride! Mary P.
Posted by Michael Peterson on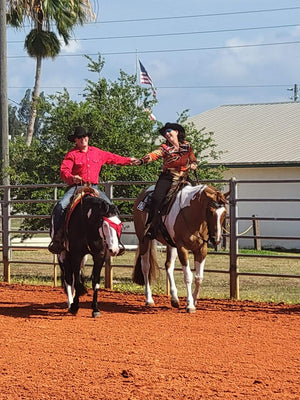 Both of my horses receive gastro elm, but gastroelm saved my horse on the left. Kramer developed a severe eye infection and during the treatment had a reaction to the medications. The colitis then caused colic which was a worst case scenario. After all what do you give a horse that colics FROM banamine?  He was in the hospital on IV fluids with horrible loose stools. We were told that there was nothing else they could do since drugs caused the problem in the first place. We brought GastroElm Plus and aloe from home and started giving it to him. The...
Posted by Michael Peterson on
Do you have a picky eater? So do we, and here's the solution for our forever finicky mare. Treats! That's right, treats. They're easy to make, she loves them and most importantly they keep her colic & ulcer issues at bay. Here's what you'll need: 1 tbsp of GastroElm plus 2-3 tbsp oats or sweet feed 1 tsp molasses Small amount of Water to combine Step 1: First put GastroElm plus, oats and molasses into a small mixing bowl and mix together until combined. Step 2: Slowly add a small amount of water to mixture until it starts to come together...